ring in the holiday season, geek style, at indyhall!
24 Nov
Posted by: Alex Hillman in: Games, Geek Event
It's no secret that the geek crowd and the gamer crowd have some serious overlap. That's why it's important that you all know about this friday's XBox Party at Independents Hall!
Not that there haven't been unofficial tourneys on the in-office Wii, but this time, Microsoft has stepped up and will be providing 4 gaming units: 2x Halo3, 1x Dance Dance Revolution, and 1x Guitar Hero. Food and drinks will also be provided.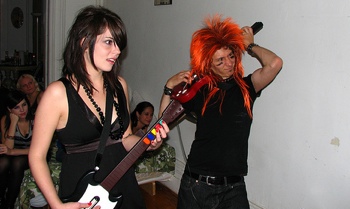 Photo by ericskiff
If you're so inclined, it might be fun to dress like a rockstar for this party (inspired by a recent Guitar Hero party in NYC that I unfortunately had to miss).
Additionally, one of the consoles will be left at IndyHall for future game-fests and everyone's enjoyment, thanks to Dani Diaz, the local Microsoft Developer Evangelist who's hooking all of this up! Thanks Dani and Microsoft for suggesting this event that's bound to be a blast!
Festivities will kick off as soon as the office winds down around 6-6:30, and go until we run out of steam.
IndyHall does have to keep an eye on attendance so the office doesn't overcrowd and everyone gets fair time on the consoles. PLEASE PLEASE PLEASE RSVP!